Happy Wednesday friends! Three cheers for halfway through the work week!
Ugh we are in the thick of this southern summer humidity. Feeling the cooler weather of the midwest last week was such a tease. I mean football's already starting here and school's been in session for awhile but it's still 93+ degrees. Yikeeesss.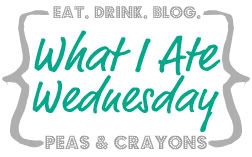 I confess some days I am terrible at taking pics of my eats for the WIAW link-up and some days I nail it. Yesterday was not one of those days. I had a really delicious new salad in a jar mix I wanted to share but when it comes to lunchtime my hunger pain is often much larger than my memory.
So today I'll share a few snapshots of eats I have enjoyed lately.
I have a cup of green tea almost every morning and sometimes during the afternoon. It helps keep me awake when the afternoon lull comes around. Plus I know I'm not the only one who enjoys having tea just to see what quote they get! This one couldn't have come at a better time.
Exploding lentil enchiladas. Sometimes my dinners aren't always that pretty or perfect but they're still delicious.
LOVING these new-to-me All Natural JJFlats 7-Grain flatbread! I found these in Publix Sunday and they have been the perfect accompaniment to my lunches and something to nibble on before dinner.
Ahhhh summer salads can definitely stay but everything else about summer in the south can go. This baby was piled high with fuel food for last nights dinner- spinach, grape tomatoes, onion, grilled salmon, walnuts, figs, avocado, Parmesan, EVOO and coconut balsamic vinegar. Delish!
Have a great day!
What are some foods you've been loving lately?!