Happy Hump Day friends!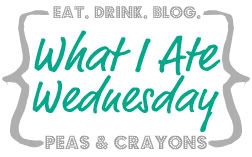 I haven't posted, nor been apart of, WIAW in ages! Between traveling and being on the road I rarely have time to remember to capture a day full of eats. I thought it'd be fun again to show you an aware of my eats lately. My weekly clean eats and my weekend indulgences.
An ode to Ms. WIAW founder herself, Jenn… I made her Bell Pepper Pizzas last night for dinner. So good. #Givemeallthecheese
I don't know why I haven't tried this before! Plus a side of baked tomatoes with shredded cheese!
Salads in a jar for weekly lunches. Again, I don't know why I haven't been doing this idea more! So brilliant!
Love love love this stuff! Locally sourced grass-fed greek yogurt! Plus they come in delicious flavors!
If B and I head to Whole Foods on a Saturday we typically will get a sweet treat to split. Saturday is our day for ENJOYING things we wouldn't normally eat during the week. This past Saturday we enjoyed a delicious Almond Bear Claw doughnut fresh out of the oven!
Black-eyed pea burger?! Um it was so good. Typically bean burgers are black bean or chickpea so I loved to see a new variation!
Cherry Balsamic Glaze over grilled organic chicken. Yum! A delicious seasonal glaze I'm so obsessed with lately.
So there's a few snapshots of my weekly eats and weekend treats!
Have a great day! XOXO